Your name: Tara
Location: Pa.
Your bun's name:Joy
Breed: Netherland Dwarf Rabbit
Age: Almost 2-years-old
Physical Traits: She is a beautiful charcoal grey color. Her fur is quite soft and silky, she has big brown eyes and a great big tail that only adds to her personality, which she has a lot of for being such a little girl. She weighs in at only around 2 pounds.
Personality Traits:She's extremely tolerant and quite bold. She tends to run away from things but it's more of a proclamation of her independence and the fact that there is no one who will tell her what to do than it is skittishness. Like her mate, Yiska, she hates having her nails cut and is a lot more "outspoken" about it. Yiska lays there and takes it like a champ while grunting but Joy does her best to wriggle and squirm away, often foiling plans for a quick nail trim. She is surprisingly picky about her treats and only likes flavored yogurt drops. I've had her for almost a year and a half now and I love her to pieces.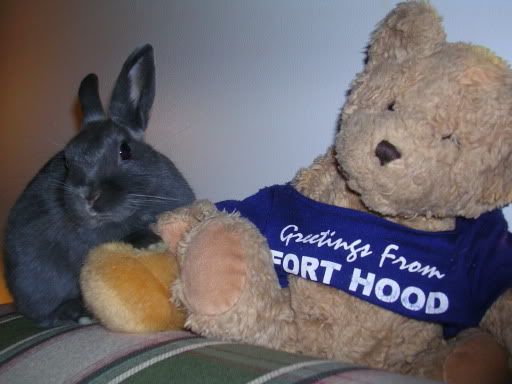 Did I mention she's tiny?